The reason behind smooth hardware operations in the data centre is not only complex engineering systems, but people, too. Much depends on their competencies, the time it takes them to respond to incidents, and even such human qualities as responsibility and the desire to be useful. We asked Dimitri Heckel, IT-Projektmanager in DC at Colobridge, to tell us what a typical day for a data centre technician looks like
What does your daily work in the data centre come down to?
I make sure that my clients' business runs smoothly. I am responsible for infrastructure physical components. Every day, together with the technical support service, I respond to customer requests in order to solve their problems as quickly and efficiently as possible.
Apart from processing requests and working directly with the hardware, do you have any other tasks?
Almost every day I receive parcels containing hardware that usually arrive at Telehouse data centre post office. I must make sure that all the contents of the package are in order. For example, I receive a set of SSD drives, I check them and then glue and transfer them to the warehouse. If this is an assembled server, it is always tested by the support service team. The hardware rarely stays in the warehouse too long: as soon as the support team confirms the timing, we immediately proceed to install it. And so it works again and again: I receive hardware (servers or server components) – I check that it is in order – I transfer it to the support service so that they double-check it, and then I switch and transfer it to the client. All the work done must be documented. Therefore, every day I draw up technical specifications, record changes in the client's infrastructure, make changes to the accounting file, and describe the work done. This is the most exciting task, but it needs to be done.
You have a lot of routine tasks that, to be honest, look pretty boring. Is there something that can give some positive emotions at the height of the working day?
Oh, I have loads of interesting stories, funny and not so! I also like dealing with a lot of very different hardware. Those who are not interested in hardware may be bored, but I like what I do. For example, I recently received a new server model with NVMe RAID controllers from a well-known vendor for a client using Dedicated – I was curious to figure out how it works.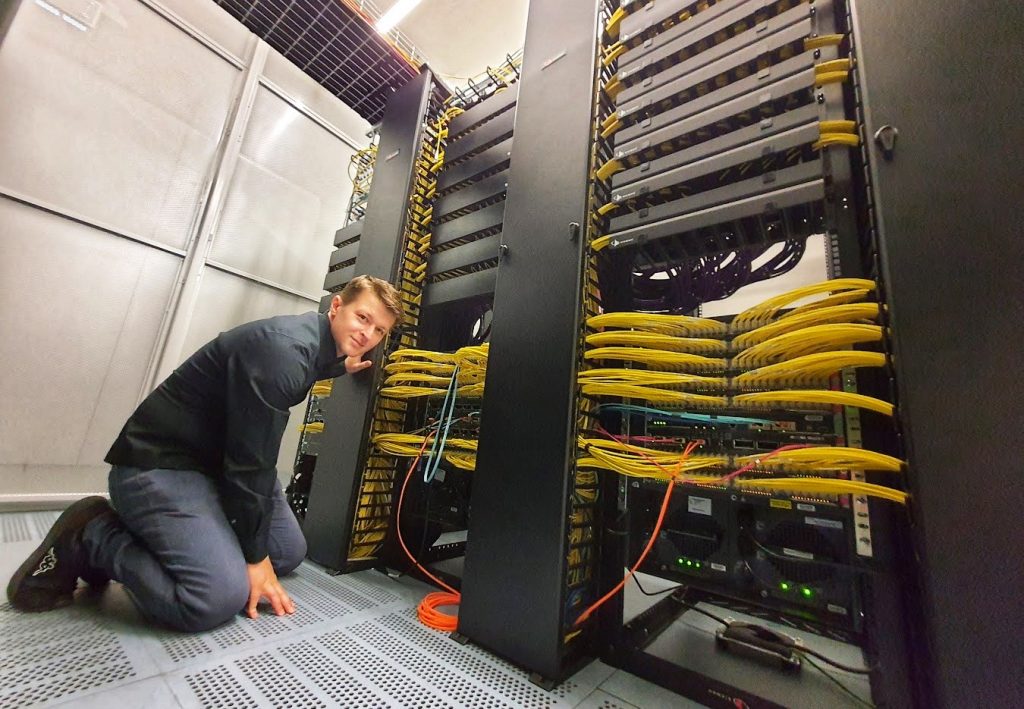 What about emergencies in your work? If they happen, what do they look like?
There are, of course, quite extraordinary situations. Once it all started quite ordinarily: a mock fire alarm went off; at our data centre, we have such mock alerts regularly. However, instead of lasting 20 minutes, as usual, it lasted four hours. When a new data centre building was under construction, an aerial bomb from the Second World War was discovered. As a result, a bomb weighing 500 kg was removed and taken to be disposed of, and the entire territory was thoroughly checked to make sure no other bombs remained. Fortunately, there were no other bombs and everything was all right.
You were saying that colleagues can join you if some interesting hardware arrives. How does it usually work – do you take care of tasks solo or do you have some team tasks?
We are constantly in contact with the support team. We have recently checked a failed server with them – the client decided to switch to using virtual machines with an extension. So, I dismantled the server and sent its components to the warehouse. Another example is when it was necessary to upgrade IT infrastructures in different data centres via DWDM. This is quite often the case that a client hosts their data in our both data centres in order to have even greater fault tolerance. We do this work together with a technician and network department team member.
What happens to components that are out of order? What happens to them?
A most recent example: a GPU on the client's hardware crashed; according to the agreement with the client, we purchased and stored an identical model in our warehouse. That is why we were able to quickly replace the component and get the service back on track. I packed the faulty GPU and sent it to the service centre. At that time it was still covered by the manufacturer's warranty, so he sent a new one that was in order, and we put it in the customer's replacement stock.
It can turn out quite in a different way: once under warranty we had to replace an HPE drive for a VIP client who hosts equipment with us. I had to meet a vendor representative and escort him to the client server. Usually, it takes quite a long time, so I was only waiting for him and registered him as a visitor my whole shift. Then I passed the information about him on to my colleague who took my place at the end of my shift.
Faulty drives are a different story. Every last Friday of the month we have a hardware day when we physically destroy and recycle failed drives using a special machine. We do this once a month and for quite a long time, so currently a lot of drives have already been disposed of.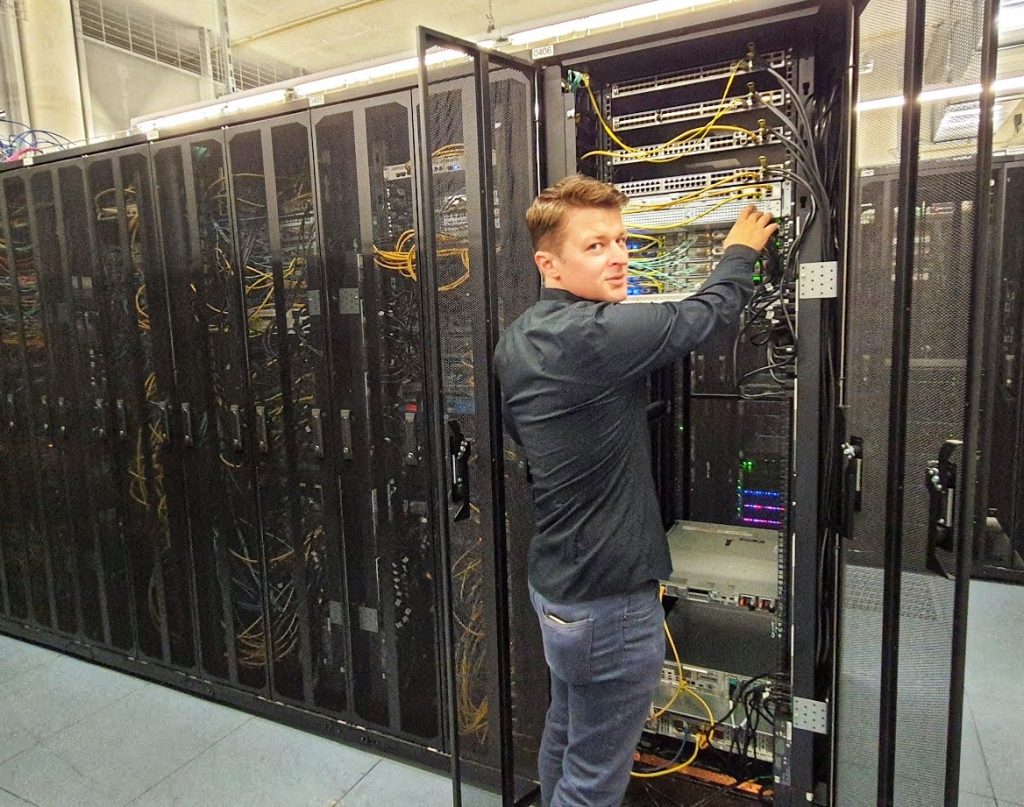 Do customers supervise how the technical team works in the data centre? Is it possible for them to contact you directly, for example, to inform you of their wishes?
Usually, we communicate via the support service, but there are exceptions – when a client orders a service called remote hands and we perform the tasks required at the respective location according to his terms of reference. We provide better services than most other data centres, so from time to time, we receive requests to service other data centre customers. We also document IT infrastructure changes and optionally, if the client wishes, we manage his replacement stock.
In one of these recent cases, I happened to travel to another data centre, not a Colobridge one, which also hosted our client's IT infrastructure. There, I had to get two drives from the data centre's own post office and install them on the server. I actually did it together with the client's administrator – we communicated with him in real-time by phone and in chat.
Can you easily visit any other data centres? Is this how usually things stand?
In most cases, yes. The only point is that in other data centres, it may take more than 30 minutes to register a visit. Therefore, during the first study visit, we fully describe the registration process so that the procedure is clear to colleagues. Next, the client registers a visit through the internal portal of his data centre, after which we can do our work without any impediments. We also agree with the client on request response time, taking into account such delays. For example, in our data centres, the procedure is so well polished that access control time does not take more than 5 minutes. And here it's not about the working time spent – it's much more important to respond to the client's request quickly.
We hope you liked a glimpse from our backstage and you had a look at our company from a slightly different standpoint. We offer to check for yourself that the entire Colobridge team adheres to a professional and responsible approach. To do this, text us or request a call back to get advice on choosing a service or test our cloud for free.