Quarterly spending on cloud infrastructure for business has been increasing by an average of 15-20% over the past few years. Many companies are no longer able to stop using cloud resources and only a few are still hesitant to take a step towards cloud migration. It is the latter who will be interested in our piece on what is public cloud, its pros and cons, and where it can be used most effectively.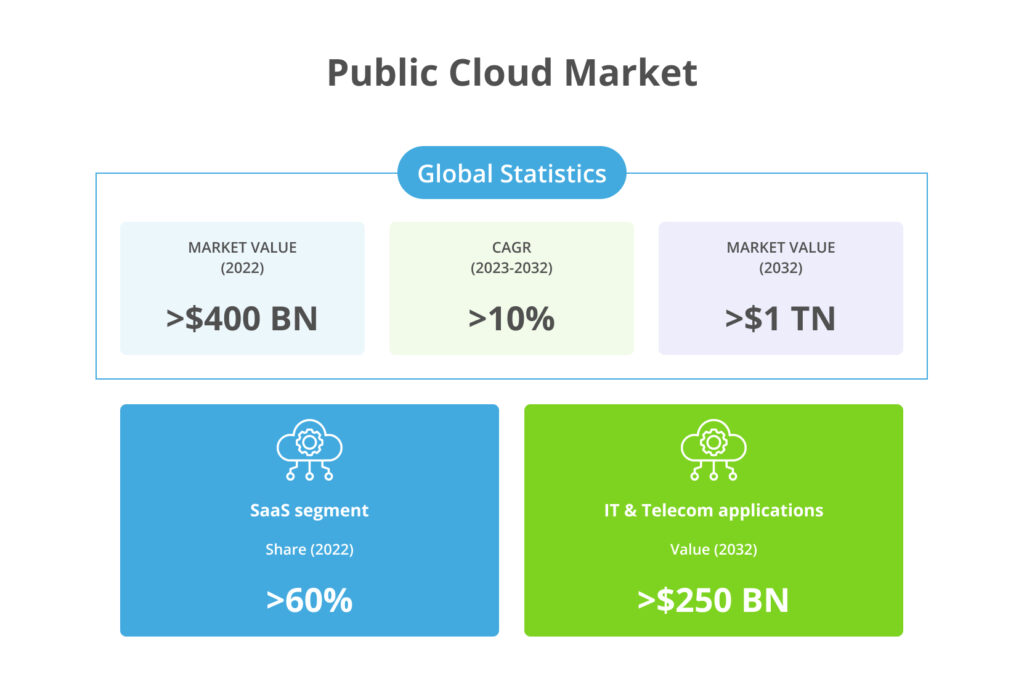 How does public cloud work?
Public cloud is a set of virtual computing resources that the user receives over the Internet as a virtual infrastructure. This service delivery model is supported by high-performance servers, storage systems and data transmission channels on cloud providers' side. By using special software (virtualisation systems), they divide physical resources into fragments, like pieces of a pie. In this way, any client of the provider can get the exact set of resources they need for their operations.In public cloud, physical resources of the provider's infrastructure are divided between clients by using software, but they are allocated dynamically – you can request extra processing resources, memory or storage space from the service provider at any time. At the same time, the customer can build a public cloud using any number of virtual machines with selected resource configurations. Each virtual machine is an analogue of a physical server where you can install and run any OS and applications the client chooses.
Typical public cloud examples include infrastructure provided by any of IT giants such as AWS, Google Cloud and Microsoft Azure to their customers.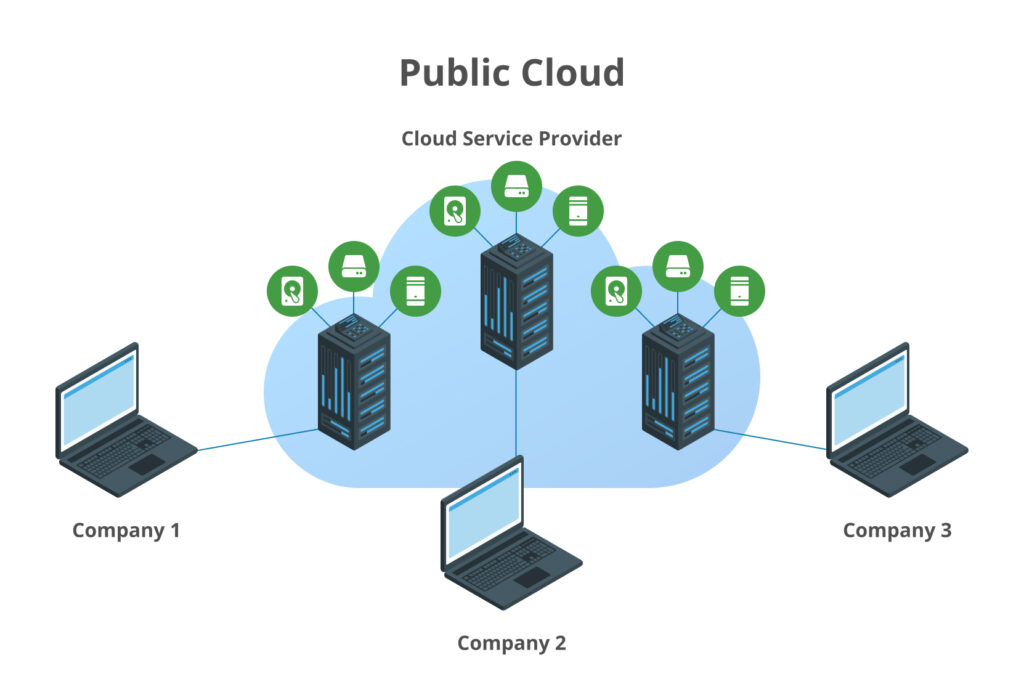 Benefits and disadvantages of the public cloud
Compared to on-premise IT infrastructure, public cloud can be rolled out easier, faster and cheaper, and managing it can be delegated to the provider's staff. This is important when a new product needs to be launched quickly, IT is not the business's core competence, and the business wants to stay away from all issues connected with it as much as possible, or the company cannot assess real resource needs even in the short term, but knows exactly how much resources it needs at launch time.
Other public cloud benefits:
no capital expenditures or investments into IT infrastructure;
the provider takes responsibility for taking care of all the physical infrastructure (computing equipment, data storage systems, switches, data centre life support systems);
payment is charged only for the resources actually allocated by the provider, their amount is agreed upon with the client in advance;
IT service support and administration costs are reduced;
they are easy to scale as the business grows and the load changes;
any OS and applications can be installed, virtual machines can be modified;
the infrastructure can be managed remotely in real time;
the provider guarantees that data it hosts is available;
data in the public cloud is available to customers and remote teams/offices from anywhere in the world.
The drawbacks of cloud services are commonly considered in terms of how they differ from on-premise infrastructure or other cloud solutions. The main drawbacks of public cloud include:
computing loads isolation at hypervisor level – in some companies this is prohibited by security protocols;
low customisation – for example, you cannot select a specific vendor or server model/components;
limitations on applications installed – some services cannot be virtualised and some require full capacity of physical server because of heavy loads.
If hosting in a public cloud does not meet the security requirements of the company's security department or industry regulators, the solution is to build a private cloud. It also makes it possible to run the IT infrastructure on any hardware, including those with rare/specific features.
Colobridge experts will suggest the optimal cloud model based on real business challenges, security requirements, flexibility in load responsiveness and other important factors.
Examples of public cloud uses
What ares and who benefits from using public cloud resources:
Development and testing environment. Developers can build, test and deploy software, no matter how complex and in any quantity, without building a physical site. They can quickly get the number of virtual machines they need and just as quickly stop using them when the project is completed.
Hosting sites with varying workloads. Load fluctuations are typical for news portals and online shops. A public cloud provider will promptly allocate extra resources at peak load times, and after the load goes down, you can always return to the regular consumption volumes.
Deploying IT infrastructure in the shortest possible time. Suitable for any business (and especially startups) that needs to get computing resources as soon as possible to launch a new product or service.
Disaster recovery site. Using specialised software, you can set up data replication and backup to the public cloud and thereby make your cloud or on-premises IT infrastructure more resilient.
At Colobridge, the service of automatically creating and storing backups is available via a service model (BaaS, Backup as a Service).
Public cloud or cloud services?
Internet users often mention such benefits of cloud services as user-friendly sign-in and use, flexibility, and access from anywhere in the world as long as they have Internet access. Millions of people use Gmail, store data in Dropbox and work with documents in Microsoft Office 365. These cloud services are out-of-the-box software for private and corporate users. For the former, the functionality offered by the developer is usually sufficient. However, these companies are not always able to find a solution on the market to meet their needs, and in other cases, the drawbacks of cloud services (for example, limited customisation and scalability) make them seek alternatives. Most often in such cases, a business rents a public cloud to host either off-the-shelf software products or software written for specific requirements by third-party developers. At the same time, cloud services and public cloud cannot be described as competing products – they rather solve different tasks for different target audiences.
Comment by Colobridge expert:

Three global cloud providers (hyperscalers) accounted for two-thirds (65%) of the global public cloud market as of mid-2023: AWS, Google Cloud, and Microsoft Azure. While their customer base continues to grow, enterprise providers have consistently retained a third of the market. This is no accident: many corporate customers need a tailored approach: customised rather than off-the-shelf configurations and responsive support in plain language.

If a company uses a public cloud and eventually "matures" to a private cloud (we have already explained it in What is the difference between public vs private cloud?), it will have to build its infrastructure from scratch with a corporate provider because a global service provider just isn't capable of supporting many different types of IT infrastructures. In conventional AWS, bots will answer at least on the first line, whereas a corporate service provider focused on local markets has live people on the line. It is faster to establish communication with them and, consequently, to get an answer to a question you have or to start solving a problem.

It takes up to 15 minutes on average for Colobridge support to respond to a ticket, with technicians communicating in your native language. A common request is to migrate from a hyperscaler when a more flexible solution is necessary or public cloud security requirements have become more stringent.
You can order a public cloud (virtual infrastructure as a service) after a free trial period. We will provide a pool of virtual resources for a period of 7 to 14 days, and you will be able to check out Colobridge platform's stability, service quality and technical support response time.