Unlike computer-installed firewall software which quite a lot of people are familiar with, Firewall as a Service is used to protect several client IT infrastructures simultaneously. Yet it is not the only feature that distinguishes it from traditional hardware and software solutions.
Traditional firewall like Windows Defender protects only the device on which it is installed from threats posed by the local network or the Internet. Such a firewall provides basic traffic filtering and, if danger arises, it warns the user about possible threats.
Firewall as a Service operates on the provider's side. It is a failover cluster of hardware firewalls; their resources are provided based on a service model. FWaaS conducts security checks as well and serves as a barrier between all components of the customer's IT infrastructure and the systems and networks connected to it.
The way FWaaS operates
Firewalls can be roughly divided into two types.
Software firewall is special software installed on physical or virtual devices which is used to intercept potential threats, monitor incoming and outgoing traffic. For example, software firewalls include Windows Firewall (Microsoft Defender) and iptables on Linux. There are two options for installing such software: it can be installed on a computer or on a server that can act as a software router.
The main advantages of software firewalls are that they cost less than hardware firewalls; software firewalls enable protecting individual segments of local networks and networks from the inside; moreover, they make it possible to deploy firewalls on servers and user computers that are already operating. There are also some disadvantages: compared to hardware solutions, it has a rather limited bandwidth and, in some cases, it is rather complicated to set it up.
Hardware firewall is a hardware controlled by special software that consists of components designed to perform the main task – traffic processing. Each hardware firewall ensures protection from network attacks only for physical or virtual IT infrastructure connected to such hardware firewall.
Popular firewall solutions include Cisco ASA, FortiGate, Checkpoint, SonicWALL, and WatchGuard. Like other hardware firewalls, they are more efficient than software solutions, they are attractive as they have high performance, are reliable and user-friendly in terms of connection and use. The only drawback of such solutions is that they cost quite a lot, which makes it impractical to use them for personal protection.
Any firewall in the form of physical hardware always comes with a control system, but it still remains a hardware solution. This is also true for the firewall based on service model. In fact, this is hardware on which it is possible to create virtual domains; each of them will serve a specific client and enable maximum isolation of client loads from each other. Virtualization operates based on a similar principle; in the same way, hypervisor provides isolation of virtual machines.
In fact, with Firewall as a Service, you get a reliable and efficient hardware solution to protect any IT infrastructure: cloud, physical or hybrid. Expensive hardware firewalls are becoming more affordable thanks to service model meaning that one high-performance device is used to protect multiple client IT infrastructures. The same principle underlies a popular sharing model that is quite common from a social and economic perspective, when, after sharing, some valuable resources can be used simultaneously by several users.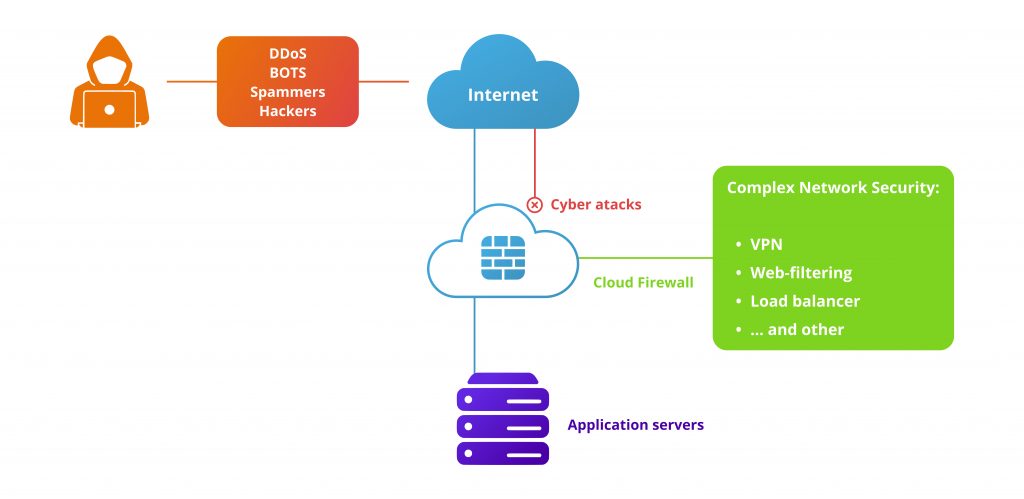 The Way Next Generation Firewalls Protect Against Threats
Currently, providers use next-generation firewalls – NGFW (Next Generation FireWall) – to protect against network threats. These are single devices responsible for routing traffic and, after being divided into virtual domains (instances), they can serve several client loads. The provider chooses the exact number of virtual instances per NGFW device depending on its performance and the number of network ports. It is up to the client to order the number of instances that can effectively protect its IT infrastructure from unwanted traffic.
Among NGFW devices, Fortinet FortiGate firewalls are popular – it is on their basis that Firewall as a Service is built on Colobridge platform. These are hardware-software complexes that have many network ports and clustering support. Each such complex has several network processors to process network traffic and several more content processors to process security features. Fortinet FortiGate devices come with proprietary FortiOS and proprietary software, including antivirus with regularly updated databases.
Must Know for FWaaS Users
By choosing Firewall as a Service, you provide secure access to your IT infrastructure; you can implement various scenarios for accessing its resources. Actually, this is an operational and cost-effective tool for comprehensive protection against variegated threats – malware, targeted cyberattacks and advanced persistent threats, including newly appearing ones. Such protection is made possible thanks to regularly updated antivirus databases on the NGFW device.
FWaaS Features:
firewall traffic filtering;
detecting and preventing attacks;
controlling applications use;
web content filtering;
secure remote access;
traffic prioritization;
blocking sources of illegitimate traffic;
protecting web applications.
Customers choosing FWaaS as an add-on service to their cloud or physical IT infrastructure hosting get smart real-time network traffic protection and guarantees that the security system is totally failure-proof; they can predict how much it will cost them to repel network threats. Colobridge team recommends using Firewall as a Service to protect virtual machines in the cloud, private and hybrid clouds, dedicated servers – any model for implementing corporate IT infrastructure, as well as to protect any business applications in general. We will help you choose the best suitable solution for you based on four main criteria: efficiency, productivity, safety and cost.